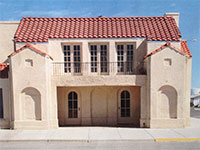 The Town of Sinclair is in the planning stage of renovating our Historic Theater. We will be applying for grants to help fund this major project and we are accepting charitable contributions to help with the Town's matching funds. We can provide a tax deductible receipt to those that donate to the Town.
Community Beautification Flyer
THE 95TH ANNIVERSARY CELEBRATION THAT WAS SCHEDULED FOR THE WEEKEND OF AUGUST 15, 2020 HAS BEEN CANCELLED. THE TOWN COUNCIL AND STAFF DECIDED TO POSTPONE THIS EVENT FOR ONE YAR DUE TO COVID-19.